Museum of Carpathian German Culture SNM, Bratislava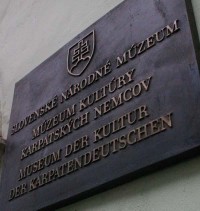 Name:
Múzeum kultúry karpatských Nemcov SNM, Bratislava
Contact: 
Dr Ondrej Pöss
Administrator
Address:
Sunyalova kúria, Žižkova 14, 810 06 Bratislava, Slovakia
Hours:
10am-5pm Wed-Mon, closed Tue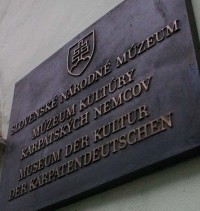 Originally developed as part of the Museum of History SNM, the Museum of Carpathian German Culture SNM was established as an independent institution in 1997. Situated in the reconstructed Sunyal Mansion at Žižkova 14, the museum collects, protects, professionally processes and presents material and documents relating to the history and culture of the Carpathian Germans from their arrival in Slovakia to the present day. Its collections cover all fields of life of the Carpathian Germans over the past 900 years, including clothing, textiles, domestic and craft production, industrial products, works of art and sacral objects. Special collections include products of Kremnica stoneware and enamel factories in Poprad-Matejovce, and paintings by Carpathian painters such as Jakub Venény, Ladislav Fuchs, Zoltán Sohler and Hans Weiss. The scientific research activities of the museum are focused on the historical and ethno-cultural development of the Carpathian Germans.
A branch exhibition in Nitrianske Pravno (see below) focuses on the history and culture of Hauerland.