Balneological Museum, Piešťany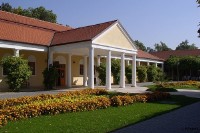 Name:
Balneologické múzeum, Piešťany
Address:
Beethovenova 5, 921 01 Piešťany, Slovakia
Hours:
Apr-Sep: 9am-12pm, 1pm-5pm Tue-Sun, closed Mon; Oct-Mar: 9am-12pm, 1pm-4pm Tue-Sun, closed Mon
The Balneological Museum was founded in 1931 by the Piestany Museum Society and the Winter family, lessors of Piešťany spa resort. Originally a museum of local history, it has specialised since 1966 in balneology (the science of baths or bathing, especially the study of the therapeutic use of mineral baths) and the history of Slovak watering places and climatic spas.
The museum is located in the Spa Hall of the Kursalon, built in 1893, and includes exhibitions on balneohistory and the mineral waters of Slovakia, as well as on local history, ethnography and archaeology.
The museum has the following satellites: