Bažant Kinematograf
Address:
PUBLIC RESEARCH s r o, Grösslingová 51, 811 09 Bratislava, Slovakia
Dates:
Annual, June-September, 2.5 months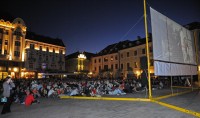 Bažant Cinematograph is a touring summer film showcase which attempts to function as an alternative to the standard cinema distribution system. The screenings take place all over Slovakia in two 'cinematographs' (retro-buses arranged for screenings of 35mm format reels). The main programme structure consists of Czech and Slovak films screened in the open air, mostly in the centres of cities. Thanks to the sponsors of the event, there is no admission entry.
Bažant Cinematograph has been travelling all around Slovakia since 2003 and its title is derived from the company name of the main sponsor of the event - Heineken Slovensko.