New Drama - Festival of Contemporary Slovak and World Drama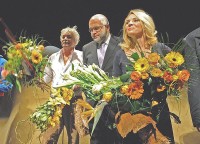 Name:
Nová dráma - Festival inscenácií súčasnej slovenskej a svetovej drámy
Address:
Divadelný ústav, Jakubovo námestie 12, 813 57 Bratislava, Slovakia
Telephone:
421 (0) 2 2048 7102, 421 (0) 2 2048 7500
Dates:
Annual, 1st half of May, 1 week
Established in 2005, the Festival of Contemporary Slovak and World Drama is the only festival of its kind in Slovakia, which focuses on productions of contemporary Slovak and world drama in Slovak theatres. The Festival originated in 2000 when the Theatre Institute launched a competition for playwrights in Slovakia called Dráma.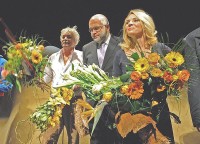 Since 2009 organised annually by the Theatre Institute Bratislava in co-operation with the Aréna Theatre in Bratislava, the New Drama Festival now showcases the best stage productions premiered in the previous year in Slovak theatres.
During the festival the finals take place of the ´Drama´competition, a contest for the best original dramatic text in the Slovak language. A special programme section features contemporary drama, each year from a different European country. In 5th New Drama Festival of 2009 the following awards were presented: the Award for Best Stage Production of a Contemporary Slovak Play went to the collective stage production The Stories from Petržalka presented by Studio 12 Bratislava and directed by Ján Šimko), the Award for Best Stage Production of Contemporary World Play went to the stage production of Cell Phone by Sergi Belbel: (Žilina City Theatre, directed by Eduard Kudláč), the Award for Best Dramaturgy went to Martin Kubran for the dramaturgy of Communism production by Viliam Klimáček and also the Theatre Aréna production cycle focusing on Slovak history (Tiso, Dr. Gustáv Husák) taken into account, the New Drama Surprise of the Year was not awarded, Special Jury´s Award went to Jana Oľhová for the extraordinary artistic expression in the production of the play Cell Phone by Sergi Belbel presented by the City Theatre Žilina. In the absence of the Bratislava Mayor his deputy Mrs. Anna Dyttertová presented the Bratislava Spectator´s Award to the Puppet Theatre at the Crossroads and its stage production The Secret of Skutecky´s House by Michal Ditte, directed by Iveta Jurčová. The final texts of the Drama competition are regularly been published in the text book of the same name with the introduction words by the jury chairman.