STOKA Theatre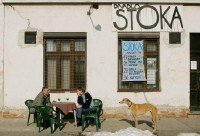 Contact: 
Blaho Uhlár
Director
Telephone: 
421 (0) 905 211031
Address:
Košická 37, 821 08 Bratislava, Slovakia
Telephone:
421 (0) 2 2072 1103, 421 (0) 905 211 031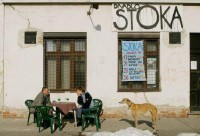 STOKA (Sewer) Theatre was founded in 1991 by director Blaho Uhlár and designer Miloš Karásek. They both felt deeply the impotence of current theatres in their search for a new theatre vision as well as their unwillingness to reject established creative methods and apply new ones.
Before the demolition of the Municipal Public Transport Building on Bratislava's Pribinova Street (STOKA's base until 2005), STOKA Theatre and STOKA Theatre Pub were the cult meeting place for the student and artist community of Bratislava.
At that time the group was made up of various artists and writers who presented a total of 25 different productions, most of which the result of teamwork involving all group members. Their working method involved the collective creation of scripts through fixed improvisation. The theatre's poetics touched upon all spheres of often delicate and intentionally subtly anticipated relationships and moments of human existence which can only be expressed emotionally without any words.
Since 2005 the group has existed without its own space and has also with changed its creative team, with the exception of director Blaho Uhlár. However, it is active in various temporary spaces (Cvernovka, Disk Theatre Trnava), while simultaneously trying to counter funding discrimination against non-governmental theatres and help secure the continued existence of independent theatres.