Slovak National Theatre - Historic National Theatre Building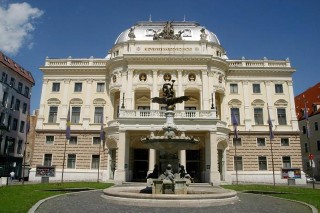 Name:
Historická budova Slovenského národného divadla
Address:
Gorkého 4, 811 01 Bratislava, Slovakia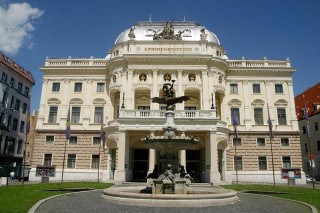 A city theatre was built at the site of the present-day Slovak National Theatre building as early as 1776. The current building was constructed to a design by architects Ferdinand Fellner and Hermann Helmer and opened in 1886.
The original Bratislava City Theatre was reserved mainly for German and Hungarian performances, but from 1920 it became the Slovak National Theatre. Down to the 1950s it hosted all kinds of performance, but following the establishment of a permanent drama stage - the City Theatre of P O Hviezdoslav - in 1955, the historic building of the Slovak National Theatre was limited to productions of opera and ballet.
The Historic National Theatre Building was adapted to growing demands, firstly in 1934 when new stage equipment was installed, and secondly during the 1949 reconstruction. The 1930s-era technical equipment served long after World War II, until the most recent major reconstruction of the theatre in 1969, when a modern extension was built at the rear of the main auditorium. The building is a listed historic monument, so the original building facade, the entry foyer and the saloon on the first floor had to be preserved.