Igric Award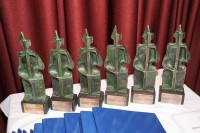 Contact: 
JUDr. Ladislav Serdahély
Director
Contact: 
Mgr. Eva Sokolová
(f) Deputy
Telephone: 
421 (0) 2 5296 1259
Address:
Slovenský filmový zväz (SFZ), Hálkova 34, 831 03 Bratislava, Slovakia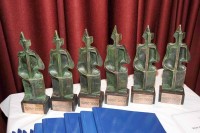 IGRIC is a national award, which is presented annually to recognise the most remarkable creative works in the field of film and television production. Its mission is to participate in restoring the evaluation criteria inspired by humanistic ideals of European culture and to motivate artists in increasing professional and aesthetic quality of their works. The award is presented by Slovak Film Union, Slovak Television Producers Union and Literary Fund on the proposal of the professional jury composed of representatives of the enumerated institutions. Presentation of awards is organised by the Slovak Film Union umbrella organisation. IGRIC awards are given for outstanding creative performances in audiovisual works produced in the previous calendar year (exceptionally also for works produced in other years, when it was proven that these works could not have been included in the competition for objective reasons). In general, in the respective year IGRIC Award may be awarded in five categories:
- Best Actors Film Movie Production for Cinemas
- Best Television Drama Production
- Best Film and Television Documentary Production (excluding Reporting and Journalism)
- Best Animation Production
- Best Performance by an Actor in a Film or Television Production.