Abov Cultural Centre, Bidovce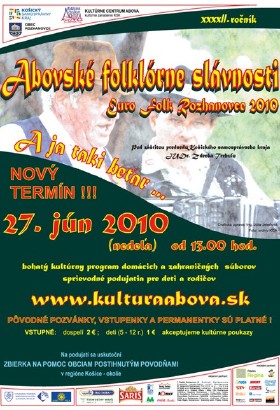 Name:
Kultúrne centrum Abova, Bidovce
Contact: Renáta Kočišová (f) Director
Contact: 
František Jeleň
Deputy
Telephone: 
frantisek.jelen@vucke.sk
Address:
Bidovce 206, 044 45 Bidovce, Slovakia
Telephone:
421 (0) 917 525677, 421 (0) 55 696 5807
Abov Cultural Centre (hereinafter referred to as 'KCA') is an establishment that carries out cultural-educational, professional-counselling and cultural activities within the territorial field of application of Košice-okolie (namely, the territory of five micro-regions Olšava, Slanské, Kecerovce, Hornad and Torysa). This subsidised cultural institution of Košice Self-Governing Region was established on 1 January 2009. KCA, having its offices in Bidovce, seeks to interconnect and intensify regional and local culture in 64 municipalities of the region. Through its activities it preserves and enhances values of traditional folk culture, organises creative activities in individual genres and fields of leisure activities and directs the development of culture within the conditions of communities.
The crucial events of supra-regional nature organised by the KCA include Folklore Festivities of Abov 'Euro Folk – Rozhanovce', Dargov Rose and Valaliky Folk Costume Parade. In co-operation with local self-governing authorities KCA is preparing a regional competition of amateur children and youth theatre ensembles called Theatrical Ďurkov (annually in March), a musical-verbal event within European Heritage Days that takes place in the Early-Gothic church in Svinica Old Art and History of Abov (September) and two country summer camps for socially disadvantaged Roma and non-Roma children in Herľany focusing on folk dancing, singing and traditional crafts. KCA regularly organises workshops that accompany competitions, craft workshops, spiritual concerts, naive art exhibitions, exhibitions of photographs by local amateur artists, trainings, lectures and other minor events.