Spiš Castle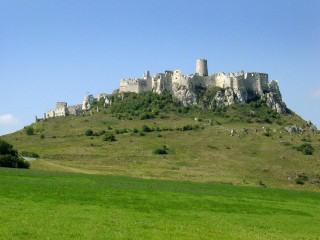 Contact: Dr Mária Novotná (f) Administrator
Address:
053 04 Spišské Podhradie, Slovakia
Mailing address:
Spišské múzeum, Namestie Majstra Pavla 40, 054 01 Levoča, Slovakia
Hours:
May-Oct: 9am-7pm daily; Nov-Apr: closed

Situated above the town of Spišské Podhradie and the village of Žehra in the Spiš region of eastern Slovakia, the ruins of Spiš Castle form one of the largest castle sites in Central Europe. The castle and its surroundings (including Spišská Kapitula and the Church of the Holy Spirit at Žehra) were inscribed in 1993 on the UNESCO World Heritage List.
Construction of Spiš Castle began in the 12th century on the site of an earlier Slavic fortification. The earliest section was the upper castle with its round tower, to which a four-storey Romanesque palace was added in the early 13th century.
In the 14th century the castle was extended further through the addition of a central courtyard with entry gate and barbican. The construction process was completed in the first half of the 15th century with the creation of a lower courtyard.
Initially a crown property, the castle functioned as the political, administrative, economic and cultural headquarters of Spiš county down to 1465. In that year it passed into the ownership of the Zápolya (Zápoľský) family, who completely rebuilt the castle, heightening the walls and turning the upper section into a comfortable family residence. A late Gothic chapel was added in around 1470.
The castle was acquired in 1531 by the Thurzo family and in 1638 by the Csáky family, who retained ownership of the castle down to 1945.
In 1781 the castle suffered extensive fire damage and gradually fell into ruin. It was nationalised in 1945 and restoration and reconstruction work began in the 1970s following extensive archaeological research on the site. The first museum exhibition was opened in 1983 in the cellars of the castle palace. The reconstructed sections of the castle now house displays of Spiš Museum in Levoča SNM. Reconstruction of the Zápoľský-era sections of the castle continues to the present day.