Červený Kameň Castle, Častá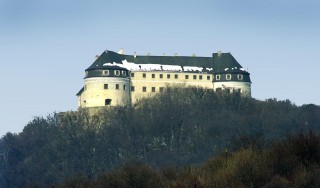 Name:
Hrad Červený Kameň, Častá
Contact: Dr Jaroslav Hájiček Director
Mailing address:
P. O. Box 13, 810 06 Bratislava 16, Slovakia
Telephone:
421 (0) 33 690 5803, 421 (0) 33 690 5806
Fax:
421 (0) 33 649 5132, 421 (0) 33 649 5236
Hours:
Nov-Feb: 9.30am-3.30pm Tue-Sun, closed Mon; Mar-Apr: 9am-4pm Tue-Fri, 9am-5pm Sat-Sun, closed Mon; May-Aug: 9am-5pm Mon-Fri, 9am-6pm Sat-Sun; Sep: 9am-4pm Mon-Fri, 9am-5pm Sat-Sun; Oct: 9am-4pm Tue-Fri, 9am-5pm Sat-Sun, closed Mon

Červený Kameň Castle is a unique example of medieval military architecture of European importance, a National Cultural Monument which through its advantageous position and unique collections is among the most visited castles in Slovakia.
The castle dates back to before 1240, when it was built as part of the frontier fortifications between Old Hungary and the Czech kingdom, stretching from Devín through to the northern border of Old Hungary. It was founded by Queen Kunhuta, widow of the Czech sovereign Přemysel Otakar I and daughter of the Old Hungarian king Béla III. In the following centuries the castle changed hands several times amongst the Old Hungarian aristocracy, passing from Matúš Čák Trenčiansky (13th-14th centuries) to Ján Zápoľský (early 16th century) and later to the Thurzo family. In 1535 the Thurzo family sold the castle and manor to their mining business partners the Augsburg Fuggers, bankers to the Habsburgs, who began an extensive reconstruction of the castle with the aim of turning it into a comfortable Renaissance seat with a modern fortification system based on plans of A Dürer. However, in 1570 the castle was purchased by Mikuláš Pálffy II. Thereafter the Pálffy family held the castle until 1945, during which period several reconstructions were undertaken. One of the most significant of these was the Baroque reconstruction of the mid 18th century carried out by Rudolf Pálffy. In 1949 Červený Kameň Castle was declared a state cultural asset and progressively opened up to the public as a museum. In 1970 it was declared a National Cultural Monument.
Following a general restoration begun in 1976, the castle was once more opened to the public in the mid 1990s. Today it houses Červený Kameň Museum SNM, Častá, which houses a rich and very valuable collection of historical furniture, accessories and weaponry.