Devín Castle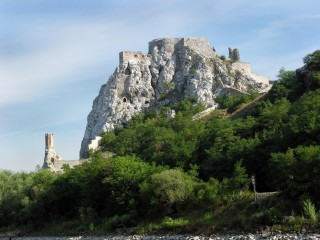 Contact: Dr Beáta Husová (f) Manager
Telephone: 
421 (0) 2 5920 5135
Address:
Muránska ulica, 841 10 Bratislava-Devín, Slovakia
Hours:
Apr-Oct: 10am-5pm Tue-Fri, 11am-6pm Sat-Sun; Nov-Mar: by appointment
The site of Devín Castle – a cliff high above the confluence of the Danube and Morava rivers upstream from Bratislava – has been occupied almost continuously since Neolithic times. It is known to have been fortified during the Bronze and Iron Ages, and both the Celts and the Romans built strong fortresses here; the first Christian church located north of the Danube has been identified amongst the Roman ruins. An 8th-century Slavic castle at Devín played a crucial role in the wars between Great Moravia and the Franks, and during the Great Moravia period a Christian church decorated with frescoes by Italian craftsmen was built within the castle walls.
Construction of the existing structure began in the 13th century, when a stone castle was built to protect the western frontier of the Hungarian kingdom. A palace was added in the 15th century, and for a time the castle belonged to the notorious Báthory family. Devín Castle was destroyed in 1809 by the armies of Napoleon I of France but subsequently became a central symbol for the Slovak National Revival.
The castle was nationalised in 1945 and in 1965 Bratislava City Museum began archaeological research, restoration and reconstruction work here. Since that time the City Museum has made use of the reconstructed basement of the castle's Renaissance palace for exhibition purposes.