Banská Štiavnica Old Castle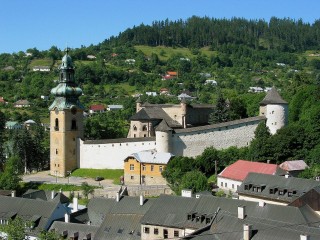 Name:
Starý zámok, Banská Štiavnica
Contact: Dr Jozef Labuda Director
Eva Lovásová
(f) Head of Old Castle
Address:
Starozámocká 12, 969 01 Banská Štiavnica, Slovakia
Hours:
Dec-Jan: 8am-4pm Tue-Sun, closed Mon; Feb-Apr, Oct-Nov: 8am-4pm Tue-Sat, closed Mon, Sun; May-Sep: 9am-6pm Mon-Sun
The National Cultural Monument Banská Štiavnica Town Castle (known as the Banská Štiavnica Town Castle) is one of the enduring features of the former royal town. It came into being following the Renaissance reconstruction of the original 13th-century Romanesque Church of the Virgin Mary and its integration into the town fortification system during the period 1546-1559. This reconstruction into a central anti-Turk fortress turned the main nave of the former church into a castle courtyard. Floors were added into the former side aisles and the rooms were made accessible also through galleries. The perimeter walls were reinforced and on all four corners characteristic watchtowers were added.
The most recent modifications took place in the early 20th century when the neglected stronghold was turned into a museum. A karner – a two-storey funeral chapel at ground level - also forms part of the fortified grounds, decorated with figuration and in the mid-15th century also with ornamental mural painting.
The Old castle being itself an exhibition of the architectural styles. Today the castle houses a number of exhibitions, including The Miners are Coming, Sacral Art, Pipe Production in Banská Štiavnica, The Art of Smithery, Shooting Targets and Arms and The 1506 Altar by Master M S. The attractive area of the castle is every year used as a place of several interasting events.