Levoča, Spiš Castle and its Associated Cultural Monuments UNESCO World Heritage Site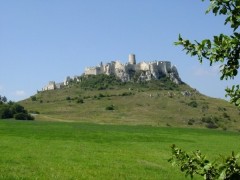 Name:
Levoča, Spišský hrad a kultúrne pamiatky okolia
Address:
053 04 Spišské Podhradie, Slovakia
A set of medieval building objects with original art and craft equipment has been preserved in Levoča. This set is the peak of Master Paul's work. His hands are likely to create the highest Late Gothic wing altar in the world located in Levoča's parish church of St. Jacob. This monumental main altar together with the altar of St. Johns in a unique way document the style and opinion change of the end of the Middle Ages and incoming Modern Times. Works of Master Paul and his workshop belong to the most important elements of furniture not only in Levoča's parish church, but also in several other medieval Spiš churches.
Dating from the early 13th century and standing on a 634 metre-high hill in eastern Slovakia, Spiš Castle is one of the largest in Central Europe and features both Romanesque and Gothic elements.
The castle and its associated cultural monuments were inscribed on UNESCO World Heritage list in 1993 because of the value of the ensemble of military, political and religious elements that was once common in medieval Europe.
See UNESCO World Heritage Sites in Slovakia, Spiš Museum SNM, Levoča