Bratislava Castle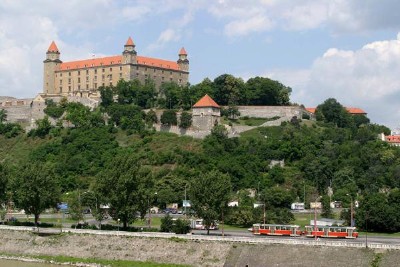 Contact: 
Branislav Panis
Administrator
Address:
Vajanského nábrežie 2, 810 06 Bratislava, Slovakia
Hours:
May-Sep:
10am-6pm Tue-Sun, closed Mon;
Oct-Apr:
9am-5pm Tue-Sun, closed Mon

This massive rectangular structure with four corner towers stands on a rocky outcrop directly above the River Danube in the middle of Bratislava.
The site was occupied during the Celtic and Great Moravia periods, but construction of the present castle did not commence until the 10th century, when the Hungarians established Bratislava as a key border fortification. In the following centuries Bratislava Castle became an integral part of the growing Hungarian state, with its own palace and chapel. Following the defeat of the Kingdom of Hungary in 1526 at Mohács, Bratislava became the coronation city of Hungary – now ruled by the Austrian Habsburgs - and Bratislava Castle became the king's residence. Sessions of the Hungarian Parliament took place here and the coronation jewels of the Hungarians kings were deposited in the Crown Tower. Taking into account its new role, Emperor Ferdinand I had the castle rebuilt in Renaissance style between 1552 and 1562.
The last large-scale reconstruction took place under the reign of Maria Theresa (1740-1780), who had the edifice redesigned in Baroque style.
In 1783, after moving the royal court to Vienna, Emperor Joseph II established a General Seminary for the education of Roman Catholic priests in the Castle. Although short-lived, this seminary proved to be of great importance in the history of the Slovak nation, turning out many outstanding personalities, including Anton Bernolak, whose first attempts at setting up new rules for the Slovak literary language were made here. After the death of Joseph II the seminary was almost immediately dissolved and the castle remained almost empty, until it was turned into a military garrison in 1802.
On 30 May 1811 the castle was burnt down completely and subsequently stood in ruins until restoration in 1953. During the Communist era it served as the Bratislava quarters of the Czechoslovak president, as well as being used for official functions of the Slovak National Council (parliament). At present, the National Council of the Slovak Republic still uses parts of the compound.
A National Cultural Monument, Bratislava Castle houses exhibitions from the Slovak National Museum (Museum of History SNM and Music Museum SNM), as well as the reception rooms of the president and parliament of the Slovak Republic. It also houses the Stone Voucher exhibition which is installed below stairs and showcases the history of Bratislava Castle.