Orava Castle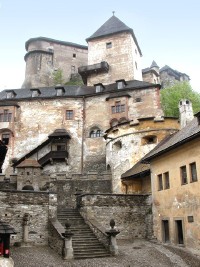 Contact: Mária Jagnešáková (f) Director
Address:
027 41 Oravský Podzámok, Slovakia
Telephone:
421 (0) 43 581 6111, 421 (0) 43 582 0240
Hours:
May and Sep: 8.30am-5pm daily; Jun: 8.30am-5.30pm daily; Jul-Aug: 8.30am-6pm daily: Oct: 8.30am-4pm daily; Nov-Mar: 10am-3pm daily; Apr: closed
Magnificently situated on a 112-metre cliff above Oravský Podzámok village, Orava Castle was built in the 13th century on the site of an earlier, wooden fortification and subsequently became an important administrative and defensive focus within the Orava region.
After 1474 Hungarian King Matthias Corvinus extended the castle, constructing a palace and inhabitable wings in the upper section.
The castle was reconstructed in the 1530s and 1540s by Ján of Dubovec who built a second palace in the middle section and added new fortifications to protect the castle from invading Turkish armies. In the late 16th century it passed to the Thurzó family who rebuilt and fortified the castle further.
After the death of Erzsébet Czobor, widow of Juraj Thurzó, the castle became property of Thurzo's daughters, who entrusted its administration to an elected administrator. However, against a background of change in politics, society and economy the castle gradually lost its functions. Only a few clerks remained and the uninhabited parts of the castle gradually fell into decline. Then in 1800 a major fire destroyed all the wooden parts of the castle.
In the mid 19th century the castle's administrator Edmund Zichy set up a foundation with the aim of establishing a regional museum at the castle, and the first exposition took place in 1868. The castle underwent restoration in the early 20th century and again after World War II. It was declared a National Cultural Monument in 1953.
Orava Castle contains a number of attractive restored interiors, including the Castle Chapel, the Knights' Room and several rooms with period furnishing. Other highlights include the Painting Gallery, the Weapons Room and the scientific, ethnographic and archaeological collections.
Several scenes of F W Murnau's 1922 film Nosferatu were filmed at Orava Castle, although until recently it was thought to have been shot entirely in Romania.