Santo Stefano dei Cavalieri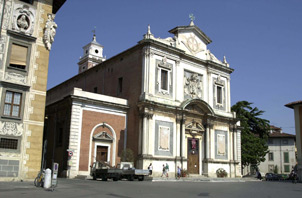 The austere yet elegant church is part of the group of religious and military buildings that the Granduke Cosimo I dei Medici built for the Knights of Saint Stephen, a religious order whose mission was to fight the Saracen corsaires.
The marble façade of the church, whose plan is due to Vasari, was made by Giovanni de Medici, Cosimo's son. Notice its heavy decoration and the Medici's coat of arms above the arch of the main door with two elegant windows on each side. To the right of the Church, is the bell tower – partly marble and partly brickwork – also due to Vasari (1570).
In the interior, to the original XVIth century single nave, two more were added at the end of the XVIIth century: they were connected to the central one in the second part of the XIXth century. The precious wooden ceiling with sculptures and paintings – representing the exploits of the Knights – was made in the XVIIth century. Hanging between the windows are flags conquered in battle by the Knights: the most remarkable is the flag taken from a Turk ship at the battle of Lepanto (1571). Along the walls you can see some old wooden decorations belonging to old ships.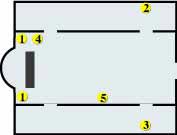 1- To the side of the beautiful baroque Main Altar, two old organs, one of the XVI century, the other of the XVIII-th century.
2- The Stoning of Saint Stephen, painting by Vasari (1571).
3- The Nativity of Jesus by Agnolo Bronzino (1564)
4- Madonna with Child Jesus by Aurelio Lomi (1593)
5- Marble pulpit (XVII century); under the pulpit there is a copy of a guilded bust by Donatello, containing the relics of Saint Lussorio. The original bust is now at the Museo di San Matteo.