La Torre Pendente (The Leaning Tower)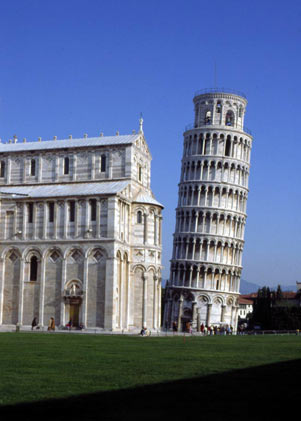 What has made the Tower world famous is it inclination, caused by the slow sinking of the muddy soil of the Pisan plain, a sinking that began already in the early stages of the construction at the end of the XIIth century. After many attemps to stop the increase of the inclination, finally the work that began in 1990 has succeded in stopping and even reversing the increase of the inclination and to restore the stability of the tower.
The structure is a marble cylinder 56 meters high: its lower part is in the purest of Pisan romanesque style, whith blind arches; above the ground floor there is a sequence of six loggias with slender and elegant columns. The top floor, of a smaller diametre and with wider arches, contains seven old bells, each one with a special name and a special function.
In the lower part there are several bas-reliefs and decorations from various epochs; above the lintel of the doorway is a lunette where once was a pretty Madonna with Child by Andrea Guardi (XIVth century) which is now at the Museo dell'Opera del Duomo.