San Frediano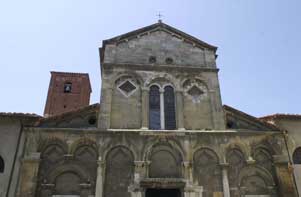 The austere façade of the church, a remarkable monument in the purest pisan-romanesque style, is built partly in marble and partly in bricks.
In the lower part there are seven blind arches surmounted by a bullioned window and, higher up, by a tympanon added after the 1675 fire. On the left-hand side of the church, there is a massive square bell-tower, whose lower part is built with stones while the upper part with red bricks.
The church's interior was entirely restored after the great fire of 1675: very little remains of the old Romanesque structure except for the three naves. Some of the columns are surmounted by beautiful capitals. The three chapels on each side were added in the XVIIth century when the stone vault replaced the original wooden ceiling. Above the arches, on both sides of the church, there are four windows with colored glasses.

1- Painted crucifix by unknown artist of the XIIth century.
2- The Adoration of the Magi, painting by Aurelio Lomi (1604).
3- Sumptuos baroque confessional in marble in the shape of a tomb, by G. B. Ruschi (XVIIth century).
4- The Martidom of San Torpé, oil painting by Rutilio Manetti (1610)
5- Main altar in the baroque style, surmounted by two marble angels.