Santa Caterina d'Alessandria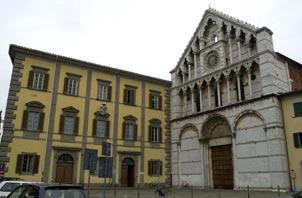 The lower part of the church's elegant marble façade of the church is another beautiful example of the Pisan-romanesque style, with its round arches and white and black bands; instead the upper part is gothic with two orders of little loggias and slender gothic arches.
In the centre of the façade, above two windows, is a delicate marble rosace surrounded by saints which was brought back to its original design in 1927. On the right hand side of the church, is the brick-work bell tower by Giovanni de Simone with mullioned windows and two precious XIVth century bells.
The austere and almost ascetic interior has only one wide nave and a wooden ceiling: on each side of the main altar, there are two small chapels and, on the lateral walls of the nave there are two altars with large paintings. On the right side, a short nave separated by two coloums is all that remains of the initial part of a work to enlarge the church. This work, that began in the XIVth century, was soon interrupted because of the black plague in 1348; on the righthand side, the Cappella dei Caduti is dedicated to the all Pisans who died because of the war.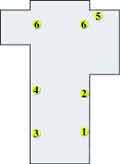 1- Elaborate grave monument of Gherardo Compagni (XVth century), parts of which are now in the Museo di San Matteo.
2- Painting of Saint Catherine by Aurelio Lomi (XVIIth century)
3- Marble grave of Archibishop Saltarelli by Nino Pisano (XIVth century).
4- San Tommaso D'Aquino, painting by Francesco Traini (XIVth century).

5- Coloured marble altar-piece representing the Madonna with the child (school of Donatello).

6- Marble statue by Nino Pisano (XIVth century) representing the Annunciation of the Virgin. di Nino Pisano (XIV secolo) raffiguranti la Vergine Annunciata e l'Arcangelo Gabriele..