San Martino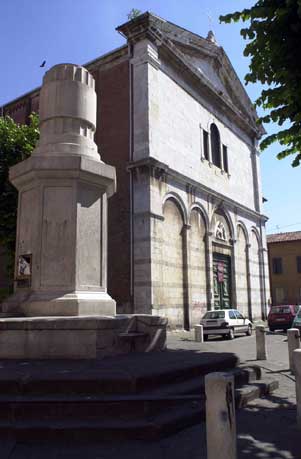 The lateral walls and the apse are made of simple red bricks with the usual small arcs adorned with XIVth century mayolicas (most of the original ones are now at the Museo di San Matteo). The lower part of the severe marble facade – with the arches and the characteristic white and black bands – is older than the upper baroque part with a triangular tympanum.
On the lunette over the main entrance there is a copy of a statue of Saint Martin and the Poor whose original – attributed to Andrea Pisano – is inside the church. The baroque one-nave interior has a wooden ceiling and a brick-work floor; along the walls there are several impressive baroque altars and on the right side two chapels. Close to the main altar there are two elegant loggias; on the right wall three fake windows correspond to the real ones on the opposite side.

1. Storie di Cristo, frescoes by Simone Martini (end of XIVth century. The frescoes have been detached from the choir where they were previously located.
2- In the Cappella del Sacramento, frescoes by Antonio Veneziano (XVth century).
3- Painted wood crucifix by Enrico Di Tedice (XIIIth century)
4- Under the main altar, an urn containing the relics of Santa Bona who devoted her life, in the XIIth century, to nursing the pilgrims: she is now the patroness of hostesses.
Address:1 Piazza S. Martino, Pisa 56125, Italy
Tel.: 050 49568