San Michele in Borgo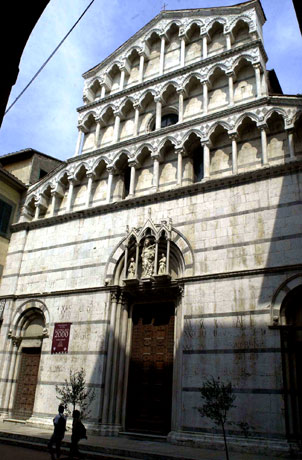 The church was built on the ruins of a Roman temple dedicated to Mars, the God of war: the white marble façade, on a small square in Borgo Stretto, mixes the usual elements of the Pisan-Romanesque style (the two coloured bands and the three rows of small loggias) with the gothic style of the small arches and the small sculpted heads which decorate the loggias.
In the lower part between the great portal and the two lateral doors, one can still see some XVIth century propaganda writings for the election of the University Rector. Above the elegant portal, inside a marble tabernacle, there is a copy of a Madonna with Child Jesus whose original is now at the Museo di San Matteo.
The wide severe interior has been partly rebuilt after world war II; the three naves are divided by coloums and pillars. Under the main altar, slightly higher than the rest of the church, there is a crypt unfortunately in poor conditions

1. Heavely decorated baroque altars
2. Above the altar, beautiful marble crucifix by Nino Pisano (XIV century).
3. Main altar: Madonna with child Jesus, XVIII century baroque painting by Baccio Lomi
4. Above the left doorwway, a lunette with a XII century fresco
Address: 10 Borgo Stretto, Pisa PI 56127, Italy
Tel.: 050 541849