San Nicola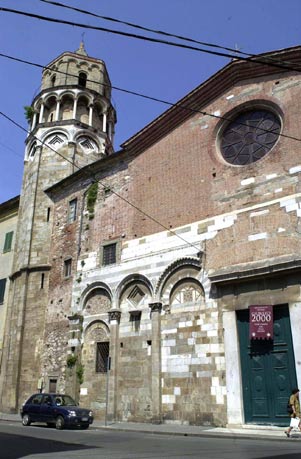 Since 1295 the church is part of the monastery of the Augustinian Canons. In the course of the centuries the façade has been modified several times but some of the feautures of the original Pisan-Romanesque style are still discernible (blind arcs, geometrical decorations, black and white bands).
The church was connected to the Palazzo Reale by two suspended conrridors of which only one remains, the other having been damaged during world war II. The octagonal bell-tower is a real masterpiece of the Pisan-Romanesque style: it is placed at the left of the church and in the best Pisan tradition it leans owing to the soil's instability. The interior of the bell-tower has an interesting winding staircase that Bramante used as a model for several of his works.
The interior of the church (XVIIIth century) has only one wide nave with a series of altars added in the XVIth century.

1. Excellent organ over the choir at the entrance.
2- Painting of the Madonna with Child Jesus by Francesco Traini (XIVth century)..
3- Wooden statue of the Madonna with Child Jesus by Nino Pisano (XIVth century). At present being restored.
4- Painting of Saint Ranieri, the protector of Pisa, by an unknown artist (XVth century).
5- Main baroque altar of the XVIIth century by Matteo Nigetti.