Santo Sepolcro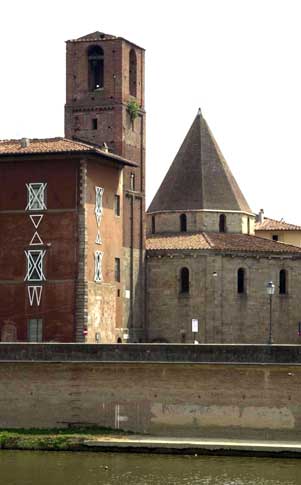 This is probably the most characteristic church in town, built for the Templar Knights in the XII century by Diotisalvi, the architecht of the Baptistry. The plan of the church is octagonal as the one of what was supposed to be the Holy Sepulcher: after many changes, the church was finally brought back to its initial state by a nineteenth century restauration.
The church is a stone octagon with two windows on each side, covered by an octagonal pyramid with an aperture on each side. In the lunette above the main portal is the bust of Diotisalvi, a nineteenth century work by Sante Varni. Beside the church, on a level lower than that of the square, is a stone and brics bell-tower with the usual small arcs and an elegant mullioned window.
The church interior is luminous though austere with eight huge pillars surrounded by arches which enclose the altar and support the pyramidal dome whose red bricks help creat a special cromatic light

1. On the floor in front of the main door, tomb stone of Maria Mancini Colonna, a favourite of king Luois XIV of France.
2- Il Pozzo Miracoloso (the miracolous well) from which Saint Ubaldesca (XII century) used to draw water.