Santa Maria della Spina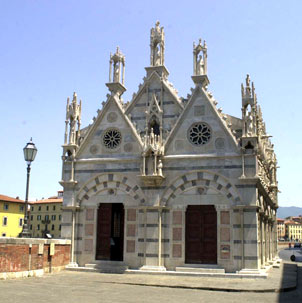 The XIIIth century chapel came to be known as Chiesa della Spina during the following century when it became the shrine of a thorn (spina) which – according to the legend – belonged to Jesus' thorn crown. The relic had been brought to Pisa by a merchant in 1333 and for a while was kept in the Church of Santa Chiara in the hospital.

The Cappella della Spina was orginally much lower than the present street level, almost on the river's gravel-bed. At the end of the XIXth century the church was carefully disassembled and riassembled in the new position to save it from the floods of the river.

The plan of the church is rectangular, completely covered with white and black marble bands. It is heavely decorated with geometrical figures and statues; notice in particular – on the side along the street, at the top of the church – the figure of Christ and the Apostels by Giovanni Pisano. The façade is divided symmetrically: in the two parts with two doorways surmounted by two arches and two timpani: in the center there is a tabernacle with a Madonna con Bambino (Madonna with Child) by Giovanni Pisano. On the roof – adorned with spires and pinnacles – there used to be many statues which are now at the Museo di San Matteo where there is also the original of the Madonna con Bambino by Giovanni Pisano. The copy of this beatiful sculpture dominates the church from its highest pinnacle.

The one nave interior has a wooden ceiling: very little of the original furniture is left in the church, most of it is now in the Museo di San Matteo. Still in the church are the XVth century statues by Andrea and Giovanni Pisano representing the Virgin Mary with the Child, Saint John the Baptist and Saint Peter.