Slovak National Gallery (SNG) Archives, Bratislava
Name:
Archív výtvarného umenia Slovenskej národnej galérie (SNG), Bratislava
Contact: 
Katarína Bodnárová
(f) Director
Telephone: 
421 (0) 2 5922 6223
Address:
Slovenská národná galéria (SNG), Riečna 1, 815 13 Bratislava 1, Slovakia
Hours:
By arrangement Mon,Tu,Th: 8,30am-12am, We: 2pm-4pm, Fri-Sun: closed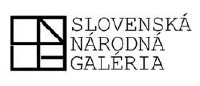 The Slovak National Gallery (SNG) Archive is a specialised public archive of fine arts and one of the departments of the Slovak National Gallery (SNG). Within the organisational structure of the SNG it forms a part of the Information Documentation Centre. Its main mission is to acquire archival collections which focus on documents about Slovak fine arts personalities and its own activity. These collections are part of a national cultural heritage archive. The archive's task is to protect, professionally process and make available the entrusted collections to the public in its own study room. It also provides information and consultation on its collections in the study room, by telephone, in writing and through the SNG official website.