William A. Kuenzel, Detroit News Photographer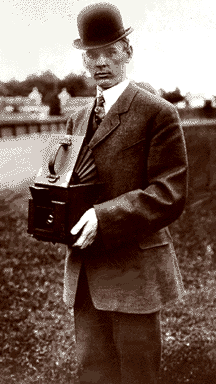 By Patricia Zacharias
Lately, Detroit television stations have been promoting new cameras attached to helicopters to provide their viewers with live images of fires and traffic jams. But the city's history of aerial photography goes back more than 80 years to The Detroit News' first photographer, William A. Kuenzel.
In 1912, Kuenzel climbed aboard a rickety, open-frame "flying-machine" piloted by aviation pioneer, Walter Brookins. A speedboat followed the pair as they took off from the Detroit River in a Burgess-Wright seaplane. Kuenzel took his photos and Detroiters got their first glimpse of how their growing city looked from the air.
Kuenzel recorded all phases of Detroit life as the city grew from a small river town into the automotive capitol of the world.
On July 21, 1899, a 14-year-old Kuenzel set up his tripod on East Grand Boulevard and snapped a picture of one of the new horseless carriages. He sold the photo to The News which published it the next day with the caption "Ford Automobile on the Boulevard ... First correct picture ever shown of the Detroit invention which can propel the carriage 30 miles an hour and will carry its passengers from Detroit to Ann Arbor for four cents worth of gasoline."
In 1901, Kuenzel left his job with a local engraving company to become The News' first staff photographer. At 17, Kuenzel was one of the first full-time newspaper photographers in the country.
That year he photographed the Tigers opening day game -- an event he covered every year until 1952. He was at Bennett Park when Ty Cobb reported to the Tigers, and he recorded Cobb's fabulous and sometimes rocky career with the team.
In 1909, Cobb slid hard into third base during a crucial game in Detroit against the Philadelphia Athletics. Frank "Home Run" Baker was spiked on the arm while making a tag on Cobb. Philadelphia players charged intentional spiking. Sports writers relayed the incident nationally, and Cobb received threats on his life from angry Philadelphia fans. But Kuenzel's action photo of the slide cleared Cobb of the spiking charge and, some say, saved his career.
Kuenzel captured many of his sports action shots with a special long-range camera called "Big Bertha" that he developed. The camera was built by the News Photo Department and sold to newspapers across the country.
But sports photography wasn't Kuenzel's only love. In 1921, he led a team of News photographers up north to record the natural beauty of Isle Royale. The photos were used in the campaign to have the remote Lake Superior island declared a national park.
Kuenzel also continued his interest in aerial photography, logging thousands of hours of flight time. In the 1930s, he used a 170-mph Lockheed called "Early Bird." The Detroit News plane was fitted with special equipment for photographers and reporters.
Kuenzel's 50th anniversary with The News was formally celebrated by the city as part of Detroit's 250th birthday observance in 1951. He retired two years later and moved to Florida, where he lived with his son, also a newspaper photographer. He died in 1964, leaving behind a stunning photographic record of half a century of Detroit.