'Nancy Brown' provided a shoulder for News readers to lean on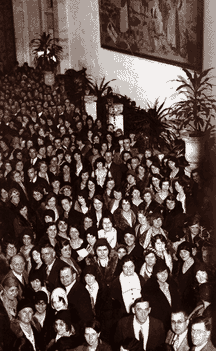 Mrs. J. E. Leslie wrote The Detroit News Experience Column under the pseudonym of Nancy Brown from 1919 to 1942. She started the column at age 49, telling the editor she was old enough to have had the "experience ... of living" and felt she could give people the "shoulder to lean on" that they needed in this age of flux and uncertainty.
She was one of the best in the field; her warmth and sincerity created an extraordinary family bond with her readers.
In November 1930, she suggested they gather at the Detroit Institute of Art to view some art that had been discussed in her column. No one was prepared for the tremendous response. The crowd ranged from 35,000 to 100,000. They jammed the Institute and streets. It was the first time her readers had gathered publicl-y. Many never got inside but friendships were formed. The curator wrote to Nancy: "You have done more in a brief few weeks to arouse interest in art and this building than we have been able to do by our united effort over a long period of years."
It was the greatest party Detroit ever had.
Following this party, one of the column contributors suggested that a fund be started for art to be purchased and hung in the Institute by the Columnites. This, too, was done with great success.
In 1934, a reader suggested, and Nancy promoted, a gathering for a sunrise service at Belle Isle. It drew 30,000 to 50,000 participants, the largest crowd in history. It became an annual event. From this, came the idea for a Peace Carillon on Belle Isle. Conceived in 1936, it was built by the nickels and dimes of readers, and dedicated in 1940. It was at this dedication that Nancy spoke and readers saw her "face-to-face" for the first time.
After Nancy retired, the Experience Column was written by other staff members under the pseudonym of Jane Lee until. 1985.
--Kay Houston