The elegant lives of a Van Dyke mansion
By Vivian M. Baulch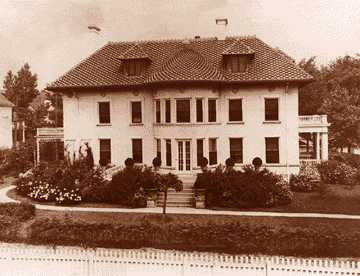 A little bit of Paris rests in elegant splendor at 649 Van Dyke near Jefferson near historic Indian Village on Detroit's eastside. Designed by George Dewitt Mason in 1912 -- the year the nation mourned the sinking of the Titanic -- its 18 rooms were described by Town and Country Magazine that year as "the perfect type of the pure French house."
      Its five levels offer "graceful proportions that have the delicacy and charm of an exquisite cameo," according to Annabelle King, The Detroit News Home Furnishings Writer in a 1963 article.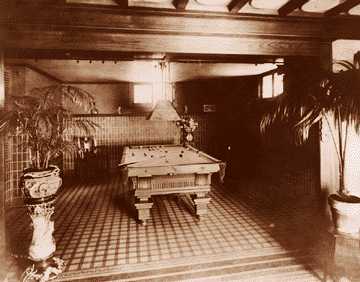 Mr. and Mrs. William Muir Finck built the home with wealth earned from his overalls company. Before everyone started wearing fashionable Levi blue jeans, Detroit's working class wore Finck overalls.
      Seven years after the home was finished, Mrs. Finck died. Her sister, Mrs. Ella Jordan moved in, and later in 1933, Mrs. Harry S. McQueen, niece of William Muir Finck moved in with her husband and three sons. When Finck died in 1936 he left the house to the McQueens.
      In 1963 the Louis XVI townhouse became a custom dress salon. The late Ruth Joyce (Essad) used its elegance as a showplace for her couturier creations. Daughter of a Lebanese tailor and French mother, she had opened her first shop on Livernois in 1947.
      Her clientele included the first Mrs. Henry Ford II; singer and television star Dinah Shore; Detroit's Miss America Pam Eldred; executive wives Mrs. George Endicott and Mrs. Oscar Olson, and the wives of baseball stars Vic Wertz and Charlie Gehringer.
      In the attic under the classic tiled roof, Joyce housed the dummies that matched the figures of her clients. These adjustable contraptions would relieve the customers of frequent fitting appointments, and could be changed if the weight of the patron changed. A patron could simply call in and order a simple black sheath made with a chosen fabric and designed with a certain style neckline and come in later for a fitting in the Marie Antoinette room.
      In a 1979 interview with News writer Pamela Krueger, Joyce said, "I learned my art from no one. I simply was born."
      There was no haughtiness in the remark, wrote Krueger, but it was said with conviction. "I'm using the talent God gave me. I didn't have to go to school to find out that I already knew what it took teachers years to learn. Somehow it was always there."
      Krueger continued "Without makeup and dressed in a simple brown wool dress, Miss Joyce was pale, but not colorless. There is a suffused warmth which radiates from her sharply molded face. It is the eyes which blaze. Dark, intelligent Lebanese eyes."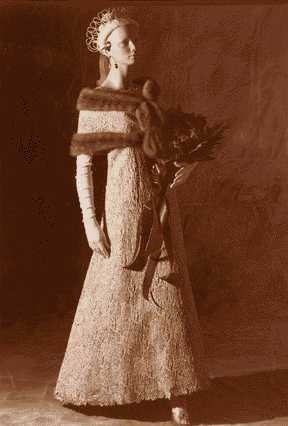 Joyce offered this rule: "Stand before the mirror and see how much 'extra' you can take off. And never be satisfied with the way you look."
      "I have a pair of drop diamond earrings I wear for formal occasion, otherwise I prefer a more conservative, tailored mode of dressing. I've found colorful and luxurious fabrics often are jewels enough.
      "I've had corporation presidents come to me and say, 'Ruth, will you lecture the wives of my executives on how to dress. I'm afraid the dowdy housewife syndrome is causing unhappiness and inefficiencies I can't afford."
      Joyce continued, "I find most men have better taste than their wives. They like conservative colors and know what's comfortable to wear."
      However she scorned some male fashion designers, "Honestly, some of those so-called pacesetters must be women-haters. You'd have to loathe the female sex to invent those outlandish fashions."
      News fashion writer Yvonne Petrie wrote in 1971 about Joyce, "Like Pauline Trigere, the French-born New York designer, her favorite fabric was wool. She was a consummate tailor, treating even satins and brocades with classic severity."
      "A Ruth Joyce ball gown in 14-karat gold brocade might be cut as simply as a turtleneck sweater and skirt, but the matching coat is likely to be lined in mink."
      "Pale pink was her talisman color, but she loved the earth tones, too. When she died, at 60, she was buried in a simple brown wool dress that she had chosen.
      "For seven years," Petrie continued, "she perched in a peacock's palace like a little brown sparrow in a jeweled cage. Now the door is open. Only her treasures are left."
      In 1988 a fashion retrospective benefit attracted the fashionable elite who visited the home and an exhibit of 45 of her dresses at the Tavy Stone Fashion Library at the Detroit Historical Museum.
      Her empty elegant home later changed from fashionable clothing to fashionable eating fare.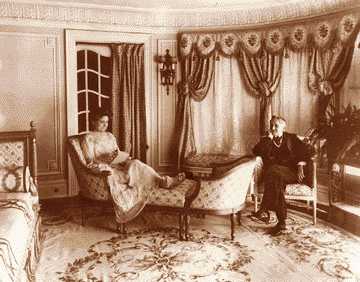 In 1973 Gerry and Nellie Maass, formerly from the Franklin House, started a bistro in the scrubbed and restored 60-year-old home. Three small rooms divided by archways served as the dining area. The tables displayed antique silver and china pieces. The high-ceilings, ornately carved white painted woodwork and bay windows provided an airy ambiance to the dining. The Maasses retired in 1979, and Fred Graczyk, from the Vineyards, ran the restaurant.
      Two years later John McCarthy and Ron Fox took over. Fox had worked in the J.L. Hudson Co. display department where he used his sense of design and style for dramatic effect. Fox had a love for historic and antique homes and furniture and became a collector of sorts. His nearby home in Indian Village reflected his standards.
      The pair spent five months restoring the Finck mansion to the point were even the word elegant was inadequate. The food they offered matched the delicate French detail displayed in the architecture of the house.
      The entrance foyer greets the visitor with a splendid winding staircase showcasing quiet opulence. Gold leaf enhances elaborate details of the room's woodwork. And the grand chandelier sparkles.
      In the rest of the home one pink bedroom replicated that of Marie Antoinette. The bed featured rolled and padded ends, with a ceiling veil. Custom woven carpeting had a floral motif that followed the border of the room. Ruth Joyce had installed mirrors and used the room for dress fittings.
      The kitchen and basement areas were done with Pewabic tiles.
      Fox and McCarthy later restored the Whitney mansion on Woodward into another resplendent restaurant in 1986.