James E. Scripps and Detroit's art museum
By Vivian M. Baulch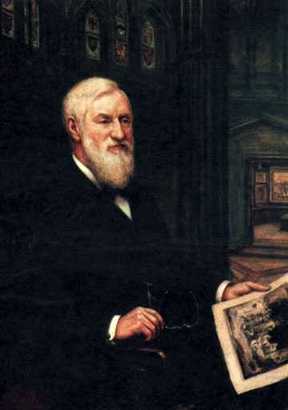 In the second half of the 19th century, even before the birth of the automotive industry, Detroit was already widely known as a manufacturing center. The Pullman Car Works, which built railroad cars, as well as shipyards, iron and copper works, tobacco factories, sawmills and brickyards had caused the city's population to swell to 200,000.
      In 1873, James E. Scripps decided to tap this growing class of working men and women by launching a new newspaper, The Evening News. He filled the paper with inexpensive advertising and instructed his reporters to write "like people talk." His competitors called The News "a cheap rag" and labeled his reporters "pirates," but Detroiters loved it. And it made Scripps rich.
      Unlike his newspaper and his reporters, Scripps himself was an elitist, distant and remote. In 1881 he decided to travel to Europe with his wife, Harriet, and daughter, Grace, in search of art and culture.
      The Scripps spent five months touring Italy, France, Germany, the Netherlands and England, visiting churches and museums. Scripps kept a journal, sending accounts of his travels and what he saw back to The News, which published them on a regular basis.
      Most readers in Detroit would never be able to make such a trip and ate it up, clamoring for more. In fact, the demand for his stories was so great he compiled them into a book called "Five Months Abroad."
      In his preface he wrote: "If it shall inspire the reader to further reading and research, one of its principal aims, indeed, will have been accomplished.
      "It may be hardly necessary to add that the book is addressed in the main to western people of ordinary information -- to the intelligent farmers and mechanics of Michigan and neighboring states; and that it makes no pretense to either high literary merit or infallibility in every statement. All reasonable care has nevertheless been given to render it both intelligent and trustworthy."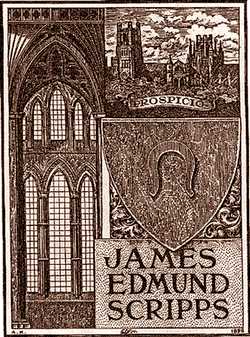 The response to Scripps' writings by the newspaper's workingclass readers inspired William H. Brearley, manager of the Detroit Evening News advertising department and civic booster, to organize an art exhibit. Brearley gathered 950 paintings, 250 watercolors, 102 sculptures, 1,000 etchings and engravings -- in all, 4,800 items -- from collectors in Detroit, Boston and Cleveland.
      Brearly even secured an exhibit from the Vatican. Pope Leo XIII sent a painting of "The Betrothal of St. Catherine," which became the hit of the exhibition.
      Called The Art Loan Exposition of 1883, the exhibit was held in a temporary hall built on Larned Street. The one-story brick structure, 135 feet by 153 feet, on the north side of Larned between Bates and Randolph, cost $15,000. During its 10-week run, the show attracted 134,924 visitors at 25 cents each. The promotors covered their costs and made a profit.
      "By jove! Art has got a boom in Detroit," exclaimed a citizen quoted in an Evening News editorial in 1882. The success of the exhibit demonstrated a need for something more.
      Works sold at the show helped defray the cost of the exhibit and also allowed the purchase of "Reading the Story of Oenone," a painting of four women in Greek mythology by the American painter Francis D. Millet (1846-1912). The patrons had selected it by popular vote and the painting became the first acquisition for Detroit's public collection. It cost $2,500.
      Flushed with the success of the exhibit, Brearley convinced a group of 40 of Detroit's leading families to donate $1,000 each to build a museum.
      The names included James E. Scripps, George H. Scripps, Dexter M. Ferry, Christian H. Buhl, Gen. Russell A. Alger, Moses W. Field, James and Hugh McMillan, George H. Hammond, James F. Joy, Francis Palms, Christopher R. Mabley, Simon J. Murphey, John S. Newberry, Cyrenius A. Newcomb, Thomas W. Palmer, Philo Parsons, George B. Remick, Allan Shelden, David Whitney Jr., G.V.N. Lothrop and Hiram Walker.
      Sen. Thomas Palmer offered $12,000 if an additional $40,000 could be raised from other sources. Less wealthy citizens contributed smaller amounts until the needed $100,000 was raised.
      On May 17, 1884, Brearley announced a gift of $50,000 from James E. Scripps, and on April 16, 1885, the Detroit Museum of Art was incorporated.
      The museum building was on East Jefferson at Hastings. Built in the Romanesque style, it looked like a castle or a church. The sculpture "The Thinker" by Rodin sat in front, as it does today at the Detroit Institute of Arts on Woodward. On Sept. 1, 1888, the Detroit Museum of Art opened its doors, with painter and teacher John Ward Dunsmore as the museum's first director.
      In 1889, recognizing the demand by art-starved Detroiters, Scripps decided to buy and donate 70 European paintings to the Detroit museum. The most famous are Rubens' "Meeting of David and Abigail" and a tryptich by the Italian gothic artist Allegretto Nuzi. The value of the entire collection donated by Scripps was about $75,000, a considerable sum in those days.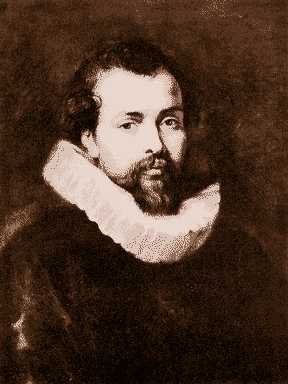 A catalogue printed in 1910, "The Scripps Collection of Old Master Paintings," lists the artwork Scripps donated to the museum in 1889 and explains his selection process: "In the early effort to obtain worthy collections for the Detroit Museum of Art -- then an infant institution -- he turned his mind to perhaps the largest field of any at that time, and tried to get representative works of the early Italian, Spanish, Flemish, Dutch and French schools. Unlike many collectors, Mr. Scripps showed no preference for any one school or a few favorite masters, but secured examples of those men and schools (where they were obtainable) as would be of the highest value historically. "
      Not all the paintings survived the tastes and fashions of time. Suspicions were raised over the authenticity of some, which and they were not displayed. But the others provided a basis for what was to become one of the world's finest collections.
      Scripps inspired other large bequests. Frederick Stearns deeded his large Oriental art collection to the museum. George Gough Booth and Ralph Harmon Booth also contributed generously.
      With later gifts from wealthy auto families like the Fords, the museum became one of the top five in the nation. Of the collection inspired by Scripps, a museum book declares, "It is not difficult to appreciate the appeal to a late-nineteenth century newspaper magnate of the solid materialism of seventeenth century Dutch paintings."
      Scripps had four children. Daughter Ellen Warren Scripps (1863-1948) married George Gough Booth, who also worked at the newspaper and was involved in the founding of the Booth Newspaper chain.
      Another daughter, Anna Virginia (1866-1953), married Edgar Bancroft Whitcomb. The couple became generous benefactors of the museum.
      A third daughter, Grace Messenger, married Rex Brainard Clark, whose grandson Peter B. Clark was publisher of The Detroit News when it was acquired by the Gannett Co. Inc. in 1986.
      James Scripps' only son, William Edmund Scripps (1882-1952), married Nina Amenda Downey and had four children. When one of them, James Edmund Scripps II, died of apppendicitis at age 22 in 1925, his parents donated a painting to the museum in his memory.
      William Edmund should not be confused with his half-uncle of the same name, who left Detroit to found the newspaper chain that became Scripps-Howard.
      The names Scripps, Booth and Whitcomb are on plaques under many of the museum's paintings, proof of this family's generosity.
      The Scripps estate later donated a portrait of James E. Scripps painted by the American artist Robert J. Wickenden. The oil on canvas portrays Scripps not as a publisher or rich businessman, but as he preferred to be seen -- as a collector and connoisseur of art, architecture and rare books. He sits in the octagonal library of his home, with its Gothic Revival windows behind him. He is holding an etching of "Christ Healing the Sick," by Rembrandt.
      In 1919 the Detroit Museum of Art gave its Jefferson Avenue building and its art collection to the city, and the private museum corporation became the Founders Society. The city's new museum was named the Detroit Institute of Arts, and the museum's educational facility was spun off as Cass Technical High School.
      A new city charter included an Arts Commission to build and administer a new art museum on Woodward in what is now the Cultural Center. The commission's first president, Ralph H. Booth, hired Paul Cret to design the building. Construction began in 1921 and the building opened in 1927.
      Booth also hired Dr. William R. Valentiner, who is generally credited with turning the DIA into a world-class museum, as its first director.