Academy of Fine Arts and Design (VŠVU), Bratislava - Research Centre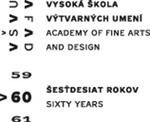 Contact: 
Michaela Pašteková
(f) Coordinator
Address:
Vysoká škola výtvarných umení (VŠVU), Hviezdoslavovo námestie 18, 814 37 Bratislava, Slovakia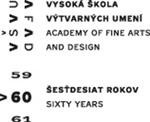 Research Centre of Academy of Fine Arts and Design (hereinafter referred to as the 'Research Centre') was founded in 2001 and focuses on development of arts and sciences in order to improve the educational process. Its activities range from the application of new technologies and innovative processes into the educational and research process to their own scientific-research work. Research Centre carries out scientific research, which focuses on issues of history, theory of art and visual culture in a broad range of artistic fields from free arts, architecture, applied arts as far as design.