Academy of Arts, Banská Bystrica - Faculty of Fine Arts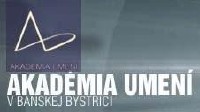 Name:
Fakulta výtvarných umení Akadémie umení v Banskej Bystrici
Contact: 
Professor Igor Benca
Dean
Telephone: 
421 (0) 48 432 0525
Contact: 
Anna Mutišová
(f) Dean's Secretary
Telephone: 
421 (0) 48 432 0522
Address:
Akadémia umení v Banskej Bystrici, Jána Kollára 28, 974 01 Banská Bystrica, Slovakia
The Faculty of Fine Arts at the Academy of Arts, Banská Bystrica offers full-time study programmes in Fine Art. The Bachelors programme includes study of Audiovisual media, Graphics, Painting and Sculpture, while the Masters programme involves just one study area - Free Fine Art.
The geographical location of Banská Bystrica, situated in the middle of Slovakia, offers many creative stimuli for students. Perfect places for acquiring information about Slovak culture and history can be found on the not distant 'Gothic Road' in the Spiš region, High and Low Tatras and Slovak Paradise National Park. Inspiration may also be found in Banská Bystrica itself – the town is famous for its rich medieval mining history. The location of Banská Bystrica predetermines the town for collaboration with international partners, mainly artistic schools within the territory of Central Europe. In that region, the Faculty co-operates with various institutions, including the Banská Bystrica City Government, the Slovak Architects Society in Banská Bystrica, Central Slovakia Gallery, Banská Bystrica, Slovak Television, Banská Bystrica Television Studio; the State Scientific Library in Banská Bystrica; the Orava Gallery in Dolný Kubín; the Turiec Gallery, Martin; and Tatra Gallery, Poprad.
Students on the Bachelors programme are orientated towards work in their chosen major studio, which includes interdisciplinary preparation, technological subjects, history of art and other theoretical disciplines. The duration of the Bachelors programme is eight (8) semesters. In the first year (1st and 2nd semester), students take all general preparation courses, following which in the second-fourth years (3rd-8th semesters) they carry out more detailed study of their chosen major studio.
Students on the Masters programme take courses in one major studio, chosen according to their previous agreement with the head of that studio. Students also take all compulsory courses according to their study plan. Masters study takes four (4) semesters and provides intensive development of individuals in accordance with their personal artistic view and deepening of their practical and theoretical knowledge in their chosen field of study. The study noticeably supports forms of self-study and self-profiling.