European Network of Cultural Administration Training Centres (ENCATC)
Address:
Place Sainctelette 19, B-1000 Brussels, Belgium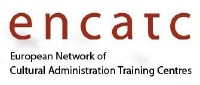 ENCATC is the European network of institutions and professionals involved in training and education in the broad field of cultural management. Founded in 1992 in Poland, this independent and unique network gathers 127 members (85 full members, 39 associate members and three individual members) and operates through 38 countries.
In Slovakia the Academy of Music and Dramatic Arts (VŠMU) and the Foundation - Centre for Contemporary Arts are members of ENCATC.