Brodzany Mansion
Address:
958 42 Brodzany, Slovakia
Telephone:
421 (0) 38 748 7263-4, 421 (0) 38 748 7272
Hours:
9am-3pm Mon-Fri, 10am-2pm Sat, closed Sun and feast days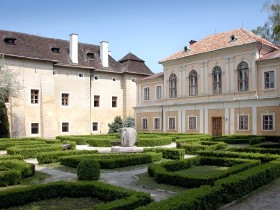 Originally built in 1377, Brodzany Mansion was extensively rebuilt in Renaissance style in the mid 17th century by the Kvaššay family. In 1844 the house became the property of the Count Gustav Vogl von Friesenhof, a successful Austrian diplomat in the Russian court at St Petersburg. After the death of his first wife von Friesenhof married Alexandria Nikolajevna Goncar, sister of the famous Russian writer A S Pushkin. In the years which followed Brodzany Mansion became an important venue for large-scale cultural activities organised under the patronage of Princess Natalia Oldenburg.
Today the house is home to the Alexander Sergeyevich Pushkin Slavic Museum, the only Pushkin museum outside Russia.
The historical park surrounding the Mansion contains 10 busts of prominent Slovak and Russian writers by foremost Slovak artists. Not far from the museum is the family crypt of the Friesenhofs.