Zsigray Mansion, Bratislava
Name:
Zsigrayova kúria, Bratislava
Contact: 
Prof Pavol Mešťan
Director
Address:
Židovská 17, 810 06 Bratislava, Slovakia
Telephone:
421 (0) 2 5934 9142, 421 (0) 2 5441 8507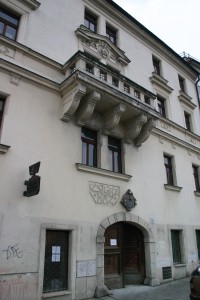 Located just below Bratislava Castle, this Late Renaissance-style mansion was built in the 17th century by Count Pálffy Zsigray of Stupava. The building was damaged in the 19th century by a fire within the city walls, and in the restoration work following the fire a third storey was added and the courtyard wings were enlarged with a balcony. The rocaille cartouche on the gantry bears the Jesenák coat of arms. Following renovation work the exhibition of the Museum of Jewish Culture SNM opened here in 1993.