Rusovce Mansion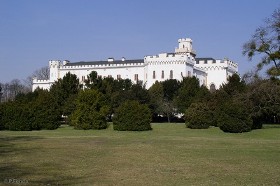 Contact: 
Peter Litomerický
Director
Telephone: 
421 (0) 2 6820 9065, 421 (0) 903 201720
Address:
Balkánska 31, 853 08 Bratislava-Rusovce, Slovakia
Telephone:
421 (0) 2 6820 9090, 421 (0) 2 6820 9011
Hours:
Currently used as an office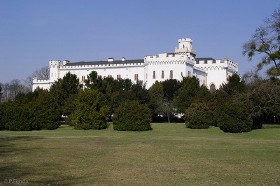 ()
Located in Rusovce, 17 kilometres south of Bratislava, Rusovce Mansion was built in Neo Classical style in 1840 on the site of an older house dating from 1521. The mansion acquired its attractive façade through the application of the Windsor style, an imitation of English Gothic. It has towers, battlements and a central risalite with terrace. In front of the mansion is the statue of a lion standing on a pillar. A large English-style park surrounds the mansion.
The building is owned by the Government Office of the Slovak Republic and currently closed to the public, although the park is a popular leisure facility. It is currently used as the headquarters of the Slovak Folk Art Ensemble (SĽUK), which moved here in 1951.