Synagogue - Center of Contemporary Art, Ján Koniarek Gallery in Trnava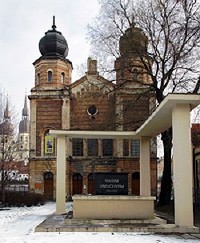 Name:
Synagóga - Centrum súčasného umenia, Galéria Jána Koniarka v Trnave
Address:
Halenárska 2, 917 01 Trnava, Slovakia
Mailing address:
Zelený kríček 3, 917 01 Trnava, Slovakia
Hours:
Oct-Apr:
9am-5pm Tue-Fri, 1pm-6pm Sat-Sun, closed Mon,
May-Sep:
10am-6pm Tue-Fri, 1pm-6pm Sat-Sun, closed Mon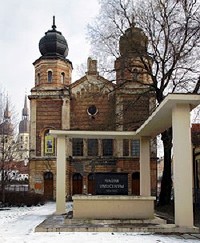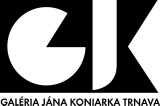 Trnava Synagogue was built in 1891 according to the plans of Viennese architect Jakub Gartner. The building, with its striking two-tower facade, has been partially reconstructed in the nineties. Today the synagogue is used as an exhibition space - Center for Contemporary Arts Jan Koniarek Gallery in Trnava and female Empor installed a permanent exhibition of Jewish studies collection of Jewish Community in Bratislava. In front of the Synagogue is a memorial to victims of the Holocaust, built after World War II according to a design by architect Artur Szalatnai-Slatinský (1891 - 1961).