Slovak State Philharmonic, Košice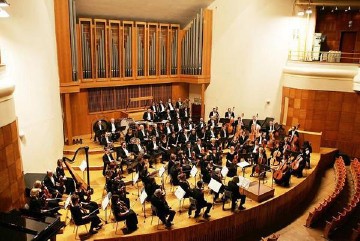 Name:
Štátna filharmónia Košice
Contact: 
Dr
Július Klein
Director
Contact: 
Jana Šargová
(f) Manager festivals
Address:
Dom umenia, Moyzesova 66, 040 01 Košice, Slovakia
Dates:
Annually, December, 10 days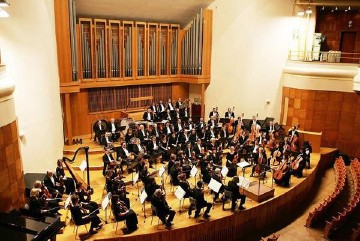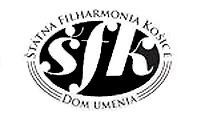 The Slovak State Philharmonic, Košice (ŠfK) was founded in 1968. The initial concert of the newly established body held in April 1969. In short time SfK ranked amongst foremost representatives of the Slovak performance art and recorded remarkable achievements on the concert stages of European countries but also in a number of substantial towns of Asia and Americas. The orchestra has 85 professional musicians who perform more than 60 concerts during a season.The Slovak State Philharmonic, Košice had concerts on the international music festivals and in the outstanding cultural centres. In 1994, SFK presented as a first Slovak symphonic orchestra in America. The orchestra worked with many foremost artists such as Valerij Gergiev, Alexander Rahbari, Jiří Bělohlávek, Luciano Pavarotti, Thomas Sanderling, Tadeusz Strugala, Libor Pešek, Emin Khatshaturyan, Igor Oistrakh, Gidon Kremer, Dietrich Fischer-Dieskau, Ivan Moravec, Josef Suk and others. In addition to the active concert activities, SFK presents its art through recordings for radio and television broadcasting as well as for record companies (above 150 CDs). The recordings for the publishing houses Naxos, Marco Polo and others, a set of orchestral compositions of J. Strass jr. and other recordings (for instance J. Spohr, J. Raff, A. Rubinstein, W. Furtwängler, F. von Suppé, E. Waldteufel) often represent unique recordings – the initial recordings of works seldom heard.
Since 1991 SFK is the principal organiser of two international festivals: The Košice Music Spring Festival and the International Organ Festival of Ivan Sokol; and since 2003 the Contemporary Art Festival as well. For its artistic and promotional activities The Slovak State Philharmonic, Košice was awarded the Košice City Prize two times (in 1994 and 2000).