Yonaguni-ori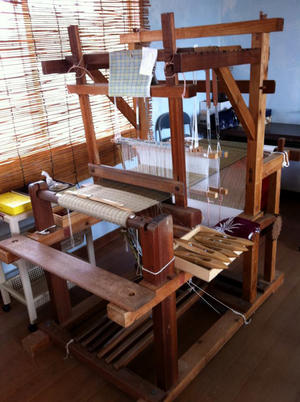 Yonaguni Island is situated at the western end of Japan and Taiwan and can be seen from the island on a clear day. The first reference to Yonaguni textiles in literature is found in the "Authentic Record of the Yi Dynasty" of 1479. It is recorded that Choma yarn was already used for weaving cloths as well as indigo dyeing. In the times of the poll tax, the islanders were obligated to send as tribute their woven cloths instead of rice, and the Yonaguni fabric was completed as today's form over this period.

The Yonaguni fabrics include: Yonaguni Doutatei (common people's farming clothes) Yonaguni-hanaori, Kagannubu (narrow belt) and Shidatei (hankerchief). Yonaguni-hanaori is characterised by double-sided embossed flowers in a checkered pattern.
The geometrically designed Hanaori are called "Dachin-bana (Yattsu-bana)", "Ichichin-bana (Itsutsu-bana)" and "Douchin-bana (Yottsu-bana)" depending on the different patterns. Its composition is made of straight lines that nevertheless adds a free and spacious feel to the fabric, with colors mixed in the checkered pattern giving a depth and image of beautiful flowers in full bloom. The raw materials are silk, cotton, Basho (banana) and Choma (ramie) yarns. Tigutei, black Kasagi, and Indian indigo are the main dyestuff.