Yaeyama-jofu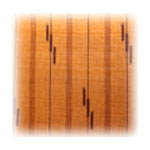 Origin is unknown. By the Satsuma invasion, poll tax was also levied on the Yaeyama people who were ordered to weave the cloths according to the design book sent from the Ryukyu government. Yaeyama-jofu, like Miyako-jofu, is made of Choma, but is characterised by the white background while Miyako-jofu is blue. Dyeing methods are rubbing or tie-dyeing. With rubbing, the rub Kuru dye is rubbed directly into the threads.
Choma and various dyestuff grown in the rich nature were applied to their maximum by human hands and wisdom and made into beautiful fabrics. It is also characteristic of Yaeyama-jofu that woven cloths are sun-dried and bleached in sea water to prevent colors from coming off. Cloth of Choma is suited for the sub-tropical Okinawa climate because of its excellent air permeability and has always been well used.
Raw materials: Kuru, Benibana, Fukugi, Indigo etc.