Kumejima Tsumugi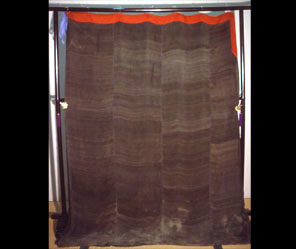 A person named "Douno Hiya" is said to have learnt and brought back the techniques of sericulture from China in the 15th century. There is also a reference in the record of a Sakamoto Somai being sent from the Shuri government to teach sericulture and in 1632 a certain Tomoyose Kagetomo was teaching dyeing and weaving. Since the Keicho era, the system of tax paid with fabric was also introduced into Kumejima where the production was strictly supervised to be based on the specific designs in Miezu, the designated patterns.
The splash patters are differentiated by the social classes: Goden-gara for the kings and nobles, Jou-gara for the shizoku, and Kogara for the common people. Kumejima-tsumugi is a product which makes the most of the natural resources of the island. Pre-dyed by the dyestuff from the island's native Guru or Tikachi plants and then repeating the dyeing process by immersing the fabric in the island's iron-containing mud for several days.
The threads have a deep dark-brown coloring. The weavers spin yarns out of floss silk obtained from silkworms' cocoons using wet hands. Woven cloths are given a soft and flexible touch by pounding.