Miyako-jofu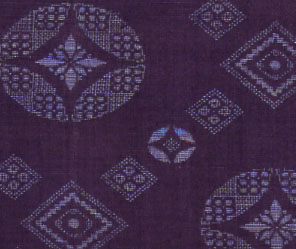 In 1583, Inaishi, the wife of a man who was praised by the Ryukyu dynasty for saving a trade vessel from wrecking, wove "Ayasabi-fu" and presented it to the king. This is said to be the beginning of Miyako-jofu. The cloth was designated to be a purveyor to the royal family and color jofu were also produced, but after the Satsuma invasion in 1609 when the capitulation started, indigo splash jofu became the main style. The jofu were sent to Edo as "Satsuma-jofu" and became widely known.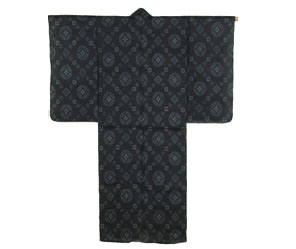 Miyako-jofu is an indigo fabric with splash patterns woven from fine Choma yarns. Choma is a perennial plant in the ramie group which grows up to 1- 1 1/2 meters. The threads are peeled off by hand from Choma by the following method: skin off the bark of chopped Choma and take out its fibers.
Tear the fibers with nails and fingertips and spin yarns. With Miyako-jofu, a collection of narrow splashes forms a pattern. Orijime and tie-dyeing is used and the dyestuff is a mixture of Ryukyu indigo and polygonum indigo which gives the deep blue background and the white splash an effective contrast. The system of offering cloths as tax which lasted 250 years contributed to today's elaborate techniques.