Ryukyu-kasuri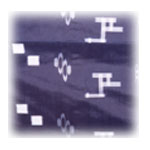 Although the origin of Kasuri (splash pattern) is not clear, it is believed to have been brought in by international trade. "Ryukyu-kasuri" is understood as denoting all Kasuri fabric produced in Okinawa, and after the war the weaving industry made its base in Haebaru-cho and this town's silk Kasuri fabric became a representative of Okinawa Kasuri.

Kasuri of Okinawa had approximately 600 patterns which were related to the nature or to everyday tools. In 1609 Rykyu Kingdom became subordinate to the Satsuma and the tax payment with woven cloths was imposed.
Design patterns called "Miezu" were sent to Miyako, Yaeyama and Kume-jima which the islanders had to observe precisely. The size, design and color of Kasuri were different and based on status. Colorful Kasuri were for shizoku or above and indigo items were worn by the common people. Ryukyu kasuri uses a unique hand tying method and also the Ezu method which marks threads with ink according to a pattern book, as well as rubbing and the Orijime dyeing methods. Haebaru products applied the Ezu method which was well developed at this time and the production was by the division of labor basis. Dyestuff: Ryukyu Indigo, Fukugi, Suou.