"KUALOA" REGIONAL PARK
"KUALOA" REGIONAL PARK
"Long Ancestral Background"
49-479 Kamehameha Highway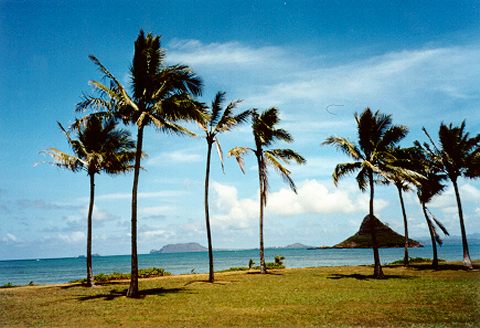 Kualoa Regional Park has come into its own within the past several years having been totally refurbished. Located in a stunningly beautiful area of Oahu's Windward coast in the Ko`olaupoko ahupua`a, Kualoa in Hawaiian means "long ancestral background" as this area has a rich ancient and sacred history.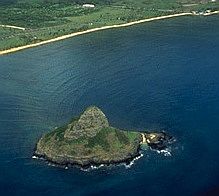 As an example, the little offshore islet, Mokoli`i, is said actually to be a fluke of the cut off tail of a dragon-like creature. Hi`iaka (or Hi`iaka i ka pali o Pele), goddess of lightning and Pele's younger sister, was traveling along the Windward coast when she came upon great Mokoli`i, the Mo`o dragon. Hi`iaka mightily fought with the giant lizard and slayed it with spears of lightning. She then dismembered and used the body to form part of the base of Hakipu`u road. And when she threw the tail away, it landed in the ocean by Kualoa. The islet, today popularly referred to today as "Chinaman's Hat", because it looks like a coolie's hat to some, is - obviously - the tip of one of Mokoli`i's tail flukes.
Erosion has nearly "wiped out" the beach's sand. Swimming and snorkeling is just great but watch out for the currents as they are occasionally strong. Please pay special attention to your keiki (children) in these currents.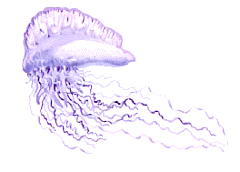 With tradewinds, Northeast winds blowing 90 percent of the year, watch out for the portuguese man-of-war (stinging blue "jelly-like fish", also known as the "Bluebottle"); they can pose a problem for beach-goers.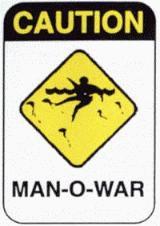 Guarded beaches on O`ahu are posted with special signs by lifeguards when there are portuguese man-of-war swarming in the surrounding ocean. Observe these signs, stay out of the water, to avoid what can be a very painful, perhaps even deadly experience.
If you are stung at a guarded beach see the lifeguards on duty. They can render minor first-aid, or, for more serious cases, call and radio for emergency medical evacuation or ambulance assistance.

Kualoa Regional Park has the following in its beach and park areas:
 
LIFEGUARDS [Weekends and Summers Only]
VERY LITTLE SAND AND REEF
PICNIC AREAS
PHONES
SHOWERS
RESTROOMS