"HANAUMA" BAY NATURE PARK
The "Curved" or "Handwrestling" Bay
7455 Kalaniana`ole Highway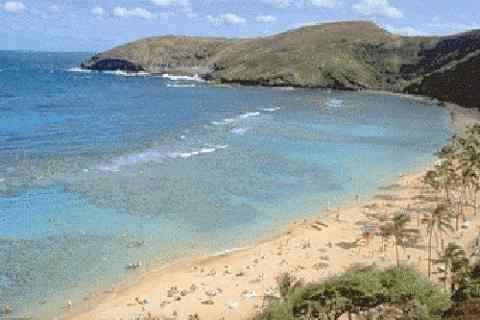 Hanauma Bay Nature Park is one of the more popular recreational swimming, snorkeling and picnicing areas on O`ahu. The bay itself is legally designated as a State Underwater Park and Conservation District. The bay is the result of the ocean's breaching and incursion into two volcano craters. This most beautiful of places is ideal - if you are a new SCUBA diver or snorkeler; and - just for swimming. There are hiking trails with very pretty vistas and the park areas have good picnicing sites.
Avoid walking on the rocky ledges where waves are breaking, they can be very dangerous. Rocks become slippery and are sharp, abrasive lava stone. Lava is very porous and it crumbles easily. Don't ever go into the wet rocky zone. The ocean is unpredictable and has been known to wash people away.
You can call +1 (808) 396-4229 for other information about the park twenty-four hours per day, including information on emergency closures, hours of operation and entrance and parking fees. You can even leave a message for a call back, if you want, at that number.
There's a Hanauma Bay Education Program in which you can learn all about the bay's natural state. The program recommends the following to protect the Bay: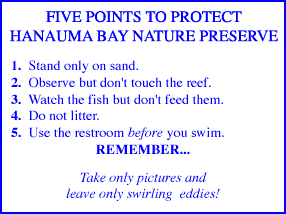 The park is very accessible by public bus service: call +1 (808) 848-5555 [Voice/Text (TTY) 852-6080] for The Bus scheduling and routing information.
Hanauma Bay Nature Park has the following in its beach and park areas:
 
LIFEGUARDS
REEF & VERY LITTLE SAND
PICNIC AREAS
PHONES
SHOWERS
RESTROOMS