"WAIKIKI" BEACH
"WAIKIKI" BEACH
"Spouting Water"
2909 Kalakaua Avenue (Outrigger Canoe Club)
to 2005 Kalia Road (Kahanamoku Lagoon)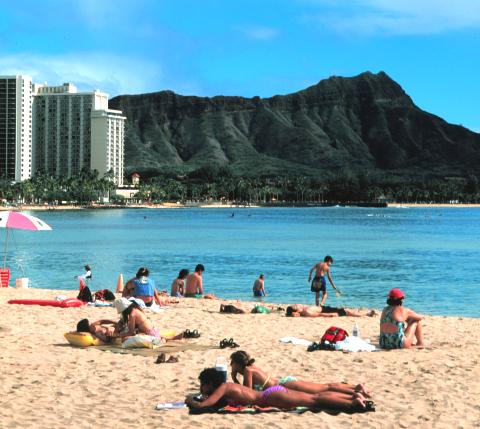 One thinks of Hawai`i and their thoughts will usually include an image of Waikiki Beach. This is basically a two mile stretch of coast fronted by hotels and tourism related facilities and the very beautiful Kapiolani Park.
 Waikiki Beach is usually crowded but is a very nice area where one can swim, canoe, surf and snorkel. The areas towards Diamond Head are near to the expansive picnic and recreational facilities, including those of Kapiolani Park. Kristina Malsberger writes, "As I thread my way through a maze of umbrellas, sand castles, and bronze bodies, it seems that some things have hardly changed since the days when Bing Crosby crooned 'Sweet Leilani' here in the 1937 film 'Waikiki Wedding.' Yes, the surfboards and swimsuits have shrunk and the high-rise forest has grown, but folks still come here for the same reasons as always: to soak up the tropical sunshine, to splash around in the surf, and to engage in that unique Waikiki tradition — the outrigger canoe ride."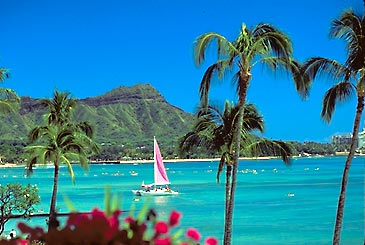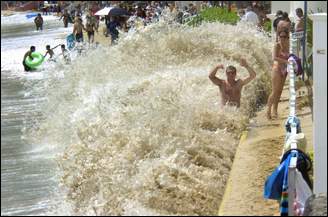 Newcomers should take special care when using personal flotation devices (e.g., inflatable mattresses, styrofoam swim boards, et al.) — they are just no substitute for good swimming technique. Be wary of runaway surfboards - they can be dangerous. Ask the lifeguards where the deep holes are. Stay off of the breakwater and sea walls; they are slippery and you can get pounded and hurt - especially during high surf.

Waikiki Beach has the following in its beach and park areas:
 
LIFEGUARDS
SAND AND REEF
PICNIC AREAS
PHONES
SHOWERS
RESTROOMS