Autobiography of Mr Kwan Hong Kee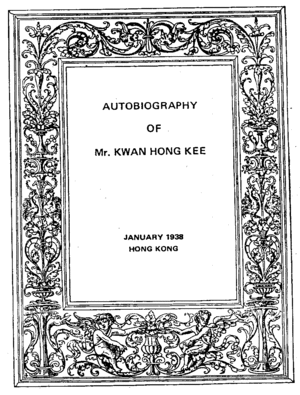 January 1938 Hong Kong
People say that a youth isn't content to stay and live in one place all his life, but wants 'to explore the four corners of the earth'. I left my home at the age of sixteen, and went to 'Tum Jay' village and started work at the 'Weng War Hop' ship building yards where I stayed for three years. In the year 1885, at the age of twenty, I left the job to go overseas. My brother Chew Kee lent me one hundred dollars through Kwong War iron mongery company, to pay for the boat passage. I embarked at Hong Kong and worked as ship's cook and arrived safely in Sydney.
I borrowed a sum of money from a friend from the same village in China, to send back to China in a letter telling my family of my safe arrival, and also with some of the money I bought myself some European clothes. Through contact with a friend I was given work in Newcastle in a Chinese store, as a cook, where I was given board and lodgings but no pay. Each day after cooking breakfast, I worked as a hawker selling goods until 4 o'clock in the afternoon, when it was time to cook the evening meal. I did this for a period of three months, after which through another friend I got work in Sydney at 'Sarm Choy' store. This store imported and sold Chinese goods. My wages were fifteen shillings a week. After two years I was promoted to salesman and received one pound a week. I worked for four years in this position. The firm then sent me to work in their branch store at Narrandera, the 'Sarm Hing' store, selling Australian goods. The manager was Mr Lee Chun. My job was serving in the store, and also delivering goods around the town. After work in the evening I studied English at night. My wages were one pound, five shillings, and later increased to one pound ten shillings after three years. I worked for seven years altogether, then took a trip back to China to be married at the age of 27.
I married a 'Miss Joh', from 'Loong Toh Warn' village and lived in the village for two years. In 1894 I returned alone to Sydney, at the age of 29 years, my wife was not able to accompany me. Heartbroken at our parting, my beloved wife passed away two weeks after my arrival in Sydney. I felt very sad. We had no children. I rejoined the firm 'Sarm Choy' as salesman for six months.
A friend, Wong Kong Cheung, introduced me to 'Kwong Sing War' in Glen Innes. The manager was Mr. Wong Hoon Narm. The store commenced as a small Chinese grocery shop, which expanded later with hardware, drapery, clothing departments. It prospered each year, making profits of over one thousand pounds annually. My wages rose from one pound ten shillings to three pounds. My work included selling, back store work, receiving and delivering goods, in fact all general work. I tried my best, my boss was pleased with my work over the six years.
I then returned to China again and married a Miss Lee, and Miss Mieu. I lived there for one year.
In 1901, at the age of 36 years, I returned to Australia for the third time, accompanied by my wife (nee Mieu) and my nephew, Walter Gett. I went back to 'Kwong Sing War' and worked for six years, after which I was offered a partnership (free partnership share of one hundred pounds), in recognition of my good work for the firm. When Mr. Wong Hoon Narm took leave and went back to China, I took over as general manager. The business prospered even more each year, which pleased the shareholders. Mr Wong Hoon Narm returned after one and a half years, and we worked together as joint managers during which profit rose from two to three thousand pounds annually. At Mr Wong Hoon Narm's suggestion, I returned to China for seven months with the family (wife, children Henry, Stanley, Daisy, Leslie, Connie), at the firm's expense.
In 1911, at the age of 46 years, I returned to Kwong Sing War with my family and nephew Jimmie Hoon and a niece Ah Giu (later became Mrs Kong Hing). I purchased the business of Kwong Sing War for the amount of £6,400. At that time I had only £400 capital. I went to Sydney to take out loans from warehouses, Sargood Gardiner, Hoffnungs, Holdsworth, amounting to £4,000 at 8% interest for three years. After paying off the debt in two and a half years, I changed the trading name to Kwong Sing & Co., and at that time I had over £12,000 in stock.
Each year business prospered, profit annually was £3,000 to £4,000. After twelve years I decided to retire and sold the business, distributing profit money to shareholders, and wound up the business legally.
In 1926, at the age of 61 years, I took the family back to China. On the advice of Mr. Wong Hoon Narm, when I arrived back, I went to Tientsin and Shanghai and commenced as manager of the Tientsin branch store of Sincere Company. Land and building was already purchased. Unfortunately on arrival in Shanghai, I developed a painful leg ailment, which incapacitated me, and I had to leave Shanghai to return to Hong Kong.
I joined the Hong Kong Sincere Company as a director, worked for a period of two years, then resigned. I continued private business in buying and selling and trading in shares which was quite profitable.
After three to four years, due to the Depression era, business generally suffered a downturn. Shares dropped. The Bank of Canton and the National Bank suffered heavy losses and ceased trading. Many businesses collapsed, including my own. The Sincere Company which had been trading for 30 years gave 12% interest plus bonus shares annually. In the best years HK$1,000 shares were worth $2,100. During the Depression $1,000 shares fell to $120. No one could forecast this.
Had things worked out differently, had I gone to Shanghai, and not had leg trouble, I would have opened the Sincere branch at Tientsin, and held an important position. With company shares, I would have had at least $100,000 at that time. However, with the fall of Shanghai, together with the Depression, I would have lost everything, as well as have had my life in danger.
Fortunately I was able to return safely to Hong Kong. Even though I suffered heavy losses there, I had no fears for my personal safety. Rise and fall in fortune will occur inevitably, and is beyond human control. This saying is very true.
I am now 73 years of age, and I present my true autobiography to my children and grandchildren to impress on them that life's passage is a difficult one. If you have good fortune do not be proud, and if you have misfortune, do not be downhearted. Be diligent, and thrifty. Look forward with courage. Do your best, and accept life's destiny. Be persistent in your desire, and Almighty will not forsake you.
I sincerely hope you will not forget my message.
signed by Hong Kee
January 1938
Hong Kong.
Editor's note: Kwan Hong Kee returned to Glen Innes in 1939 where his second son, Stanley, took over the management of the Kwong Sing store. Kwan Hong Kee died in 1942 and is buried in the Glen Innes cemetery. His wife, Ethel Mew Young, died in 1967 aged 85 years and is also buried in the Glen Innes cemetery.