Studio tanca in Banská Bystrica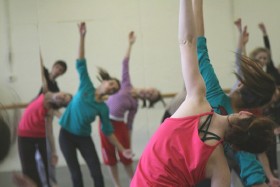 Name:
Štúdio tanca v Banskej Bystrici
Contact: Zuzana Hájková (f) Director
Address:
Komenského 12, 974 01 Banská Bystrica, Slovakia

Studio tanca is a professional dance theatre that has performed for more than 10 years as an ensamble with a permanent stage in Banská Bystrica. The theatre has been offering people interested in untraditional artistic performance original production of contemporary Slovak dance and it has supported young unconventional Slovak producers. During its existence it has introduced more than 20 full-length performances and several exterior projects. It has cooperated with international guests and with many contemporary Slovak artists. It has performed in different Slovak theatres as well as at some prestigious international festivals abroad (Czech Republic, Poland, Hungary, Bosnia and Herzegovina, Russia, Germany, Italy, Egypt, Japan, Belgium, India). The theatre has also produced two film productions and it has inspired production of several documentaries about its activities. It launched the tradition of a festival of contemporary dance called "4 (+1) days 4 you" where contemporary projects of Slovak production as well as co-production are presented. The festival has become a significant event promoting ideas of contemporary dance. The founder of Studio tanca is the self-governing region of Banska Bystrica.