Studio 12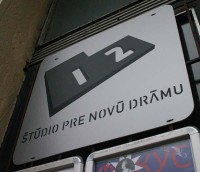 Contact: Uršula Kovalyk (f) Manager
Address:
Divadelný ústav, Jakubovo námestie 12, 813 57 Bratislava, Slovakia
A refurbished former recording studio of the Czechoslovak Radio dating from the 1930s, Studio 12 was opened in December 2001 with the aim of providing a space for the presentation of the new Slovak and world drama and modern art. As it is listed as an industrial monument, the Studio's architectural arrangement and interior fixtures have been conserved in an almost their original state.
The dramaturgy of Studio 12 is focused on support for original theatre activity, presentation of Slovak and foreign trends in interpreting the text in modern theatre and hosting shows by theatre groups that focus on modern writing and new dramaturgy. It organises workshops, educational programmes and presentations of modern drama. It also provides space to young artists and civic associations which are seeking to realise theatre projects connected with modern drama or authored creation from Slovakia or abroad.
The Theatre Institute in co-operation with different theatre associations and independent theatre groups has presented several interesting theatre productions of contemporary world and Slovak drama here, including Phaedra's Love by Sarah Kane, Family Stories by Biljana Srbljanovic, Cinema Eden by Marguerite Duras, Deus ex machina by Peter Pavlac, Tanya-Tanya by Olya Mukhina, and projects of Nota bene Theatre – Theatre of Homeless People. Apart from these productions, Studio 12 hosts guest performances from different Slovak and foreign theatres, education projects, conferences, seminars, concerts, presentations of books and other cultural events.
Since 2006 various educational projects have also been carried out in Studio 12, aimed at introducing new theatre forms to primary and secondary school students. The venue has also hosted various discussions and seminars on topical issues, book presentations of the Theatre Institute or other publishers, concerts (eg the student festival of modern music ORFEUS, New Music international festival evenings) and a range of other cultural and social activities.