Ministry of Education, Science, Research and Sport of the Slovak Republic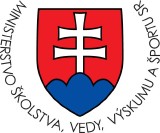 Name:
Ministerstvo školstva, vedy, výskumu a športu Slovenskej republiky
Contact: 
Eugen Jurzyca
Minister of Education, Science, Research and Sport of the Slovak Republic
Contact: 
Jaroslav Ivančo
State Secretary
Address:
Stromová 1, 813 30 Bratislava, Slovakia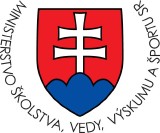 The Ministry of Education of the Slovak Republic is the central body of state administration of the Slovak Republic for elementary, secondary and higher education, educational facilities, lifelong learning, science, and state support for sports and youth.
The Ministry manages schools and school facilities within the territory of the Slovak Republic through generally binding rules, providing vocational guidance to all founders and administering the network of school and school facilities in the Slovak Republic.
Though regional school authorities it provides for realisation of state administration. The competences of the Ministry are set out by law.
The Ministry of Education carries out its duties in co-operation with other ministries. In the area of culture, it co-operates with the Ministry of Culture, particularly upon creating the graduate profile and content of study for secondary and higher education schools with artistic orientation, upon drafting science-research activity, cultural and artistic orientation and upon protecting the national cultural heritage. The Ministry pursues its own grant programme, 'ADAM' which is administered by IUVENTA - Slovak Youth Institute and oriented towards supporting out-of-school activities of children and youth, active use of leisure time, volunteering amongst young people, information and consulting activities for young people, informal education of children and youth and international youth mobility. The Ministry is responsible for financing the National Scholarship Programme prepared by the Government of the SR in 2005 and administered by the SAIA, n. o. (Slovak Academic Information Agency), which is designed to award scholarships and travel grants to students, doctorands, university teachers and research employees of universities and centres of the Slovak Academy of Science.