BIBIANA, International House of Art for Children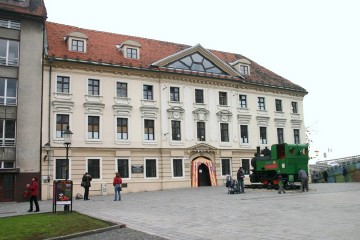 Name:
BIBIANA, Medzinárodný dom umenia pre deti
Contact: 
Peter Tvrdoň
Director
Address:
Panská 41, 815 39 Bratislava, Slovakia
Hours:
Exhibitions:
10am-6pm Tue-Sun, closed Mon;
Study facilities:
10am-12pm, 1pm-3pm Mon-Thu, 10am-12am Fri, 1.30pm-6pm Sat-Sun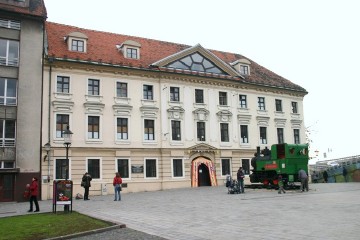 BIBIANA, International House of Art for Children, is based in the very heart of Slovakia's capital – in the historical Old Town district of Bratislava. Although the institution's Charter was only granted three years later (1990), as early as 1987 BIBIANA had been preparing its first exhibitions and shows inspired by children's book illustrations. BIBIANA was establishing itself as independent space for pursuing very rich and varied activities, which, at that time, were closely related to the already world-renowned Biennial of Illustrations Bratislava (known worldwide as the 'BIB'). When the then-new centre of arts was to be christened, the three letters (BIB) became the fundament of the International House's name – BIBIANA.
Over the two decades, BIBIANA's activities gradually broadened and extended to develop its current profile. BIBIANA became a modern European institution, a cultural hub supportive of the development of professional arts for children. Besides many unparalleled interactive exhibition projects comprising creative workshops and theatre shows, it also prepares projects for general public. BIBIANA is the organizer of a bi-yearly international juried exhibition of originals of illustrations made for children's and juvenile books – Biennial of Illustration Bratislava (BIB); a bi-yearly international juried festival of animation films for children – Biennial of Animation Bratislava (BAB); and an international festival of alternative and puppet theatres – We Play For You. Since the institution's actual founding in 1987, BIBIANA has hosted the IBBY's Slovak Section (International Board on Books for Young People, an international non-government UNESCO organization). The IBBY Slovak Section organizes nationwide book competitions such as Slovakia's Most Beautiful and the Best Children Books and Slovakia's Most Beautiful Book; also, it publishes a professional magazine entitled Revue BIBIANA; the institution participates in awarding national awards to illustrators, writers and translators; and it continually extends BIBIANA's unparalleled library resources and implements a project entitled Digital BIBIANA.
The centre performs a number of specialized roles; thanks to these roles, it ranks among organizations with a unique scope of operation. First of all, there are scientific and research activities where BIBIANA fosters cooperation with numerous partner organizations operating in the field of culture for children, both in Slovakia and abroad; it gets significantly involved in organizing scientific symposiums, seminars, conferences, examines and assesses Slovakia's literature and cultural items intended for children.
The above activities are closely connected with presentations of book and illustration exhibitions as well as animation film shows, both home and abroad. Besides taking parting in traditional and well-proven European book fairs, film and theatre festivals, BIBIANA also organizes its own representative illustration and animation production presentations. Among the most successful exhibitions in recent years were those held in Japan, Indonesia, South Korea, Canada, South Africa, traditionally in the Czech Republic, France, Italy, Germany, Finland, Norway, Belgium, Austria and elsewhere. There were also many film presentations performed in Europe's capitals.
BIBIANA is actively involved in the network of international and non-governmental organizations dealing with issues of children and it has constantly developed extensive bilateral contacts; BIBIANA is a unique institution for the scope of its focus and a diversity of events it prepares and performs. During the two decades of its existence, it has won innumerable fans both in Slovakia and abroad, and has built a great reputation even with the world's professional public.